What was the brief?
After seven years in their 10th-floor duplex with 270-degree views and Paddington Basin below, the clients had decided to move, they wanted extra space and a more modern home. They were torn because Paddington Basin and the flat had become their home and they were looking forward to the much-anticipated regeneration of the area. They made the bold decision to stay put and undertake a major rework of their apartment.
The clients brief was simple; to open up the spaces to make the most of the views of the basin below and available light and to find a home for their 25-year-old Dracaena tree, bought when they first moved to London, and which was crippled in the constrained proportions of the existing flat.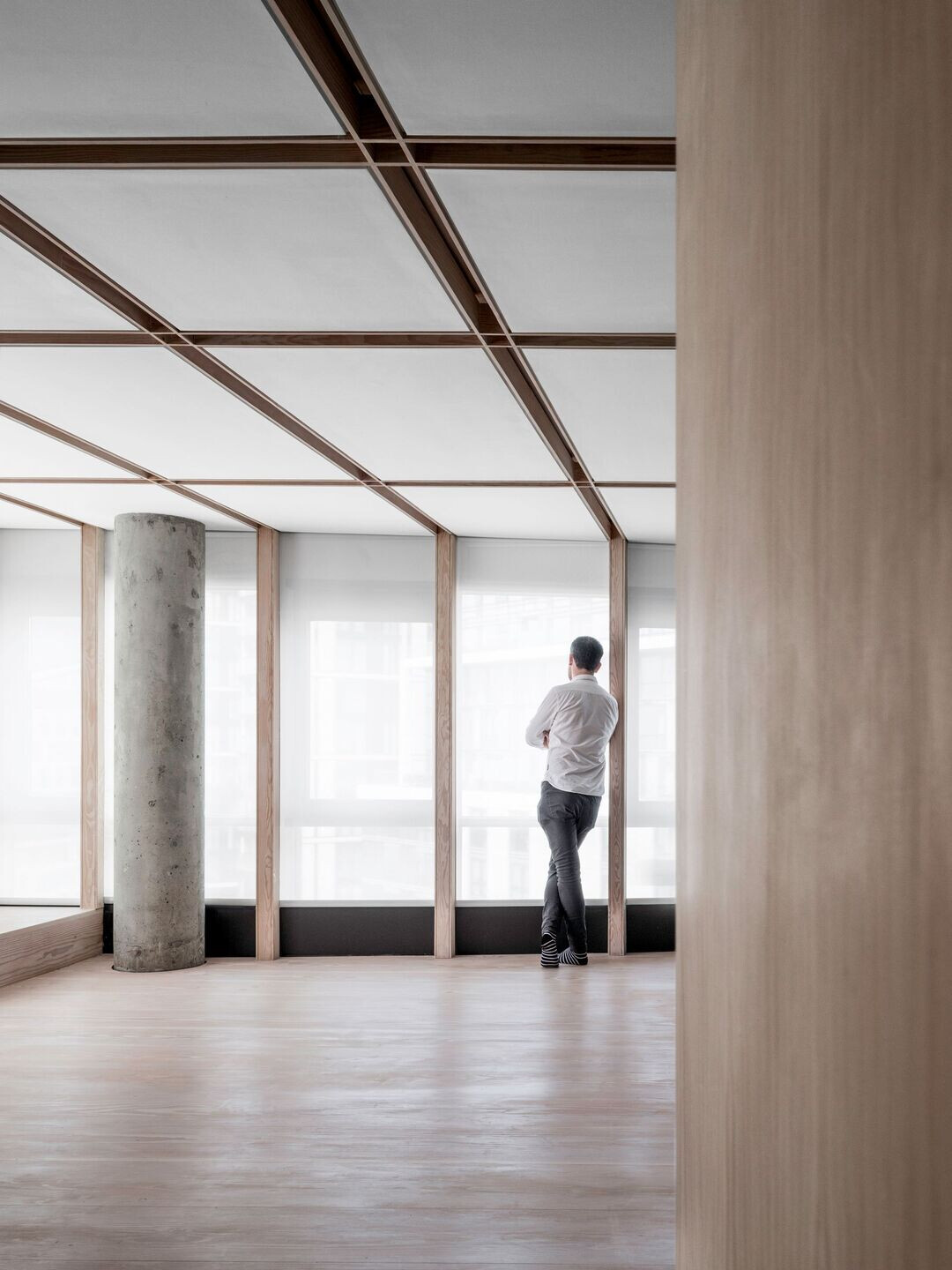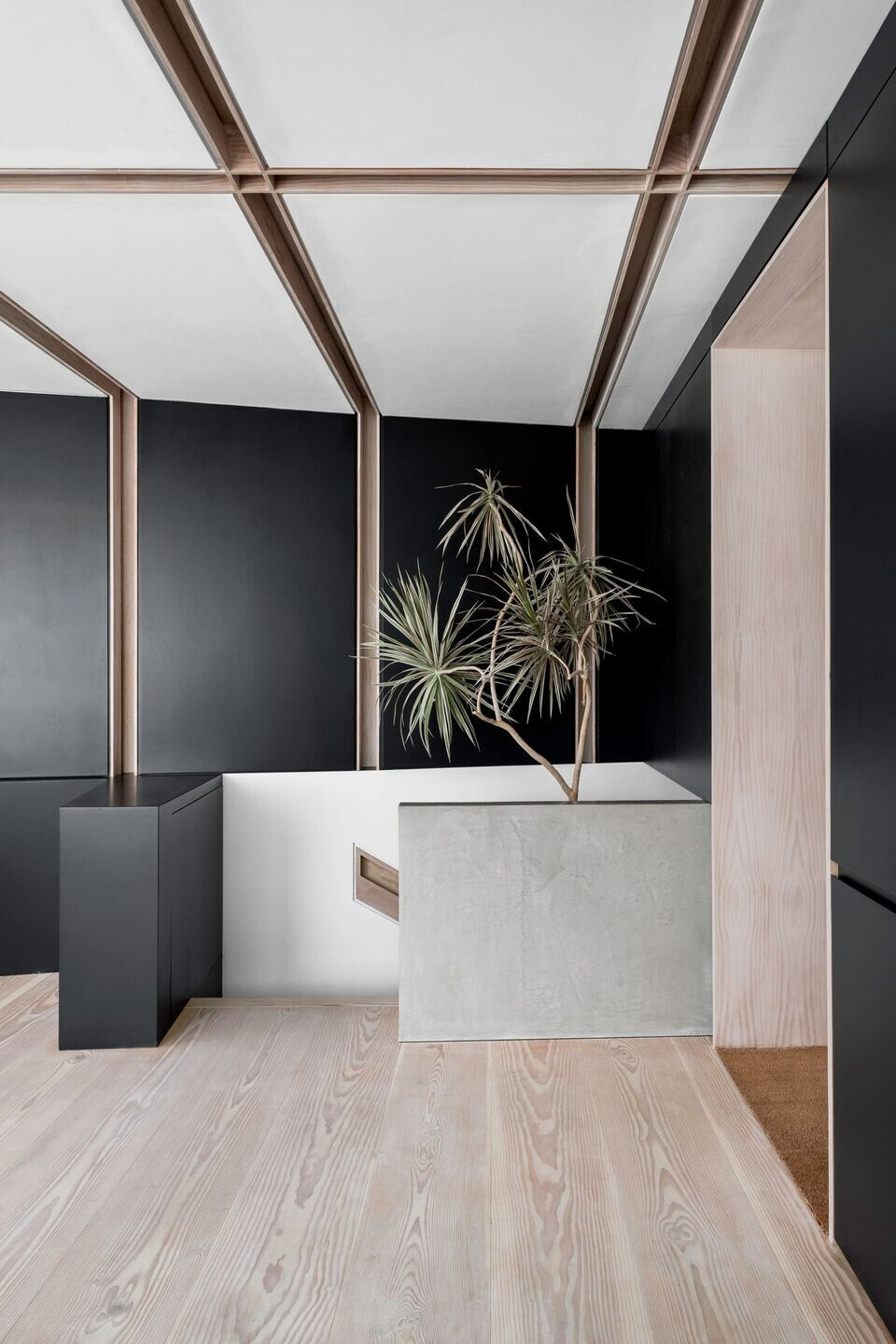 What were the key challenges?
After seven Built around 1997, their flat felt like a resultant space; a by-product of urban massing and volume unit production rather than representative of them. Standardised components (e.g. stair and kitchen island) cut the upper-level living space in half, making the space difficult to occupy.
The stair was adapted with the simple addition of a winder, this manoeuvre reduced circulation, reorienting the space towards the canal and expansive terrace. Further reinforcing this improved connection, the design embraces the buildings curtain walling system as a setting out reference for a bespoke timber lined grid, drawing the eye outward.
The vertical connection between levels was achieved by the introduction of a concrete balustrade that wraps around the Dracaena tree – a unique and personal experience within the property. The lower bedroom level has been redesigned as a connected and open series of spaces with full height doors and seamless thresholds allowing borrowed light into the internal circulation space.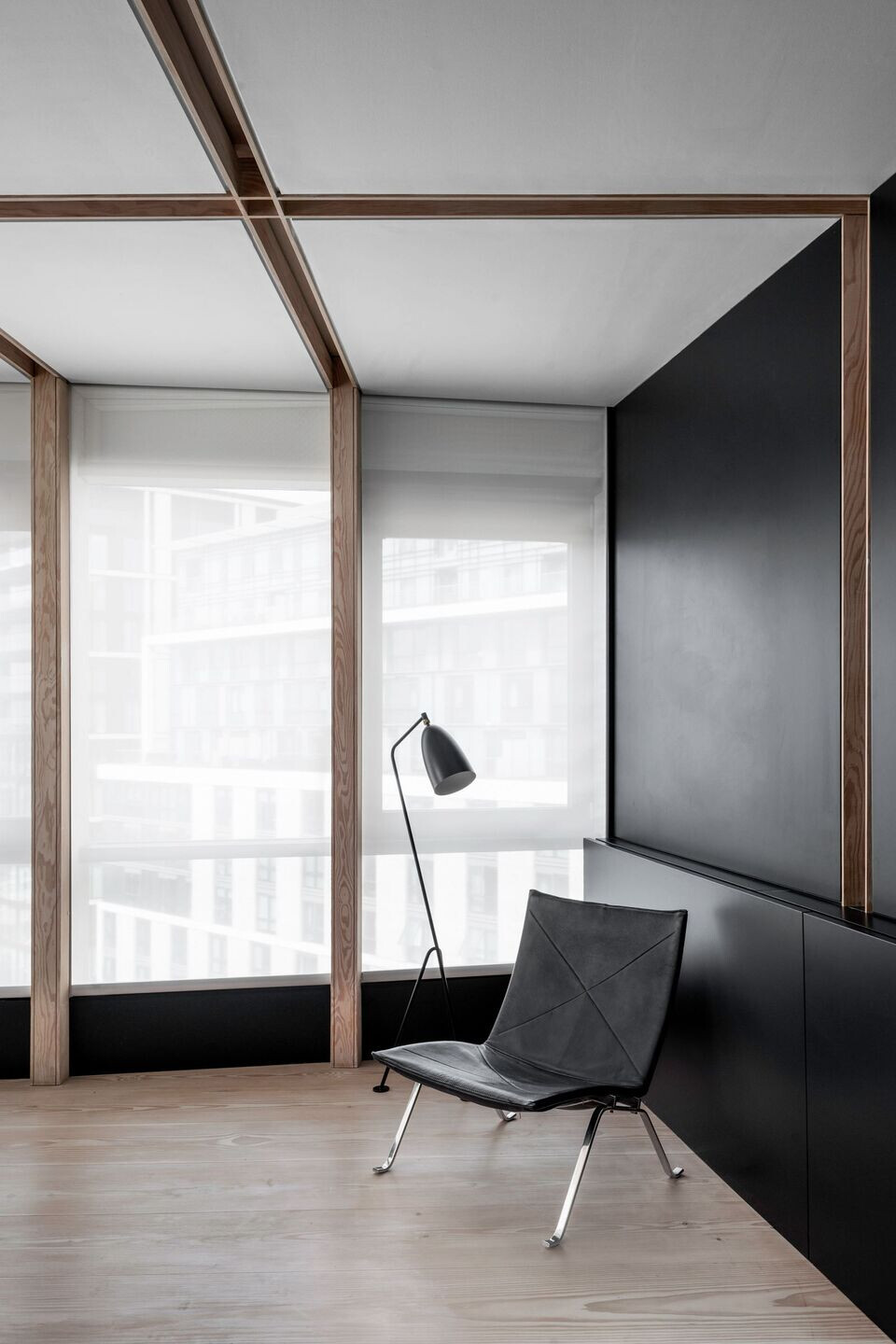 What materials did you choose and why?
English narrowboats along Regent's Canal below, with their ornate timber detailing and craft influenced the language for the proposal. The intricate timber detailing around the recessed lighting channels in the ceiling and cladding the window frames reflects this craftsmanship and contrasts with the ubiquity of the wider development. This concept of bespoke craftsmanship carries through to the matt black kitchen joinery, unique cast concrete kitchen and bathroom sinks, corian bath, LED timber stair handrail and floor to ceiling douglas fir doors; all made by a single craftsman.
Privacy from overlooking and shade from the evening sun are controlled using concealed automated blinds, discreetly hidden in the re-clad mullions. This is influenced by a reinterpretation of traditional Japanese shoji and forms a translucent boundary condition of lightweight movable screens, experienced by the clients on their travels.
The flat is now an elegant lesson in creating space without moving. Simple adaptions to the form and layout have transformed these two disparate levels into one connected whole. This apartment is no longer a series of resultant spaces on the tenth and eleventh floors, it is now theirs. The client says that "Sitting in central London looking down on water is very unique. The flat feels calm, light, bright and liberating."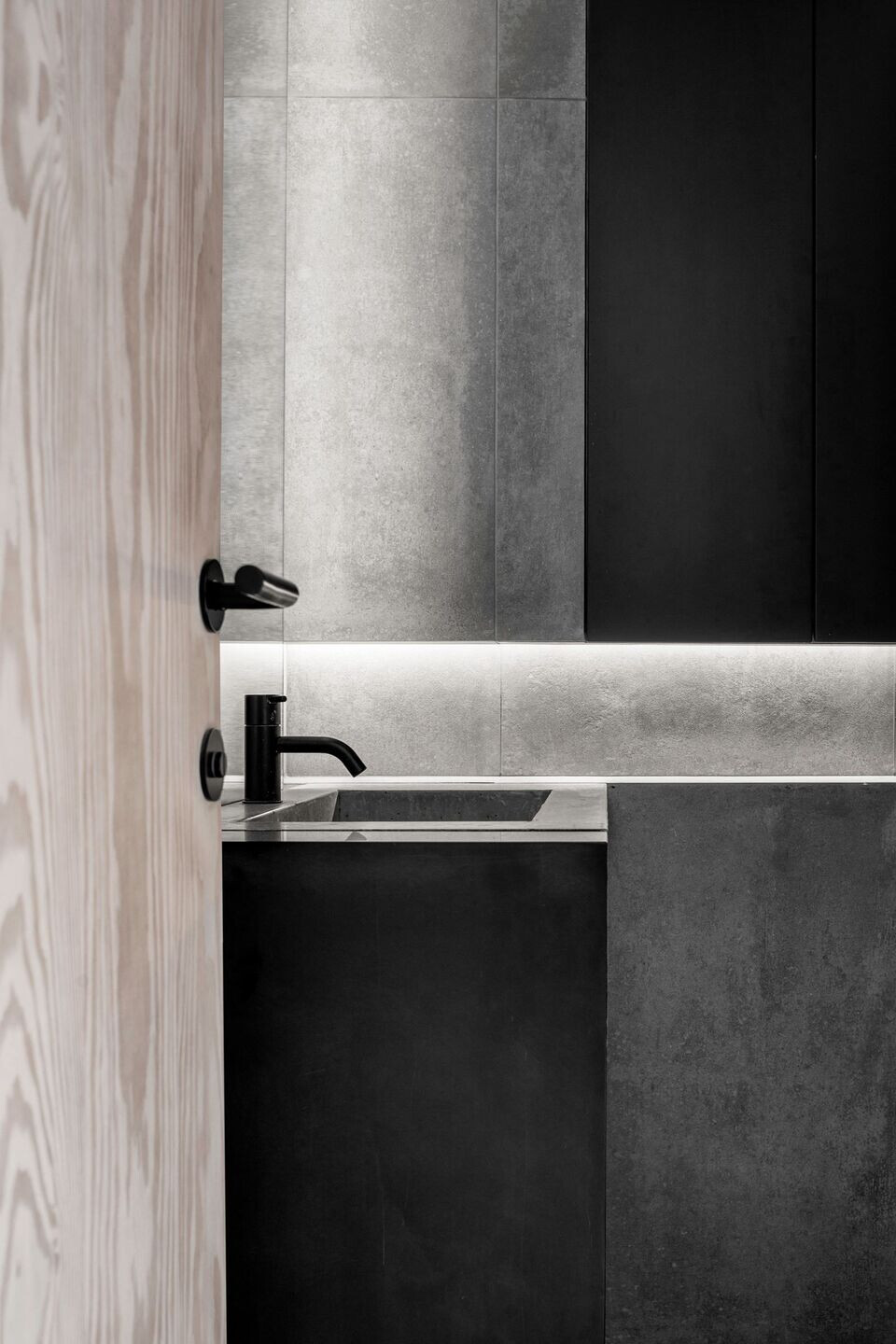 Material Used:
1. Flooring: Douglas Fir, Engineered (ply based) Douglas Fir, Waxed Floors Ltd
2. Doors: Douglas Fir Full Height Doors, Bespoke Made
3. Windows: Existing Windows, Silent Gliss 4500 Electric Brand
4. Interior lighting: Recessed LED Lighting, Loox Lighting System, Hafele
Add more if available:
5. Bathroom Tiling: Solus Ceramics, Concrete Tiling