Private Label International designed Ten01, a thoughtful and engaging housing option for students attending the nearby Arizona State University in Tempe, Arizona. Ten01 went through a full renovation, focusing on the five amenity floors located in the core of the property. Due to the close proximity to the Arizona State University main campus and the large growth of new apartments in the vicinity, Ten01 needed a massive overhaul to stay current and appeal to the local demographic and the high number of international students that attend the university.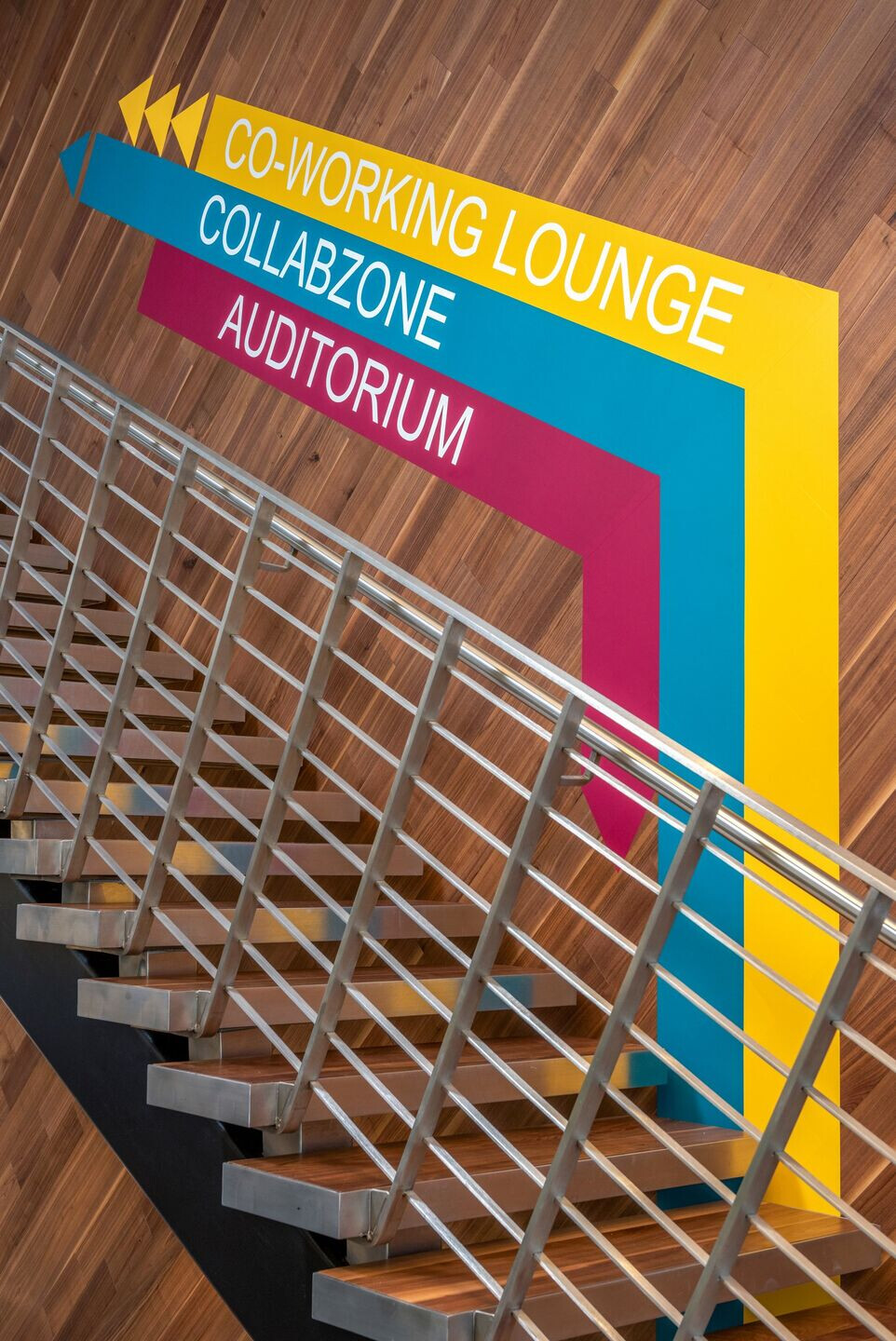 The overall design aesthetic focused on what made Tempe, Arizona a destination for people coming from all over the world. The new design also needed to improve function from a building and leasing standpoint, set the property apart from its increasing number of competitors and generate higher rents. The full scope of work for the project included: readdressing the façade and branded curb appeal, developing a plan for updating units and reinvigorating the amenity offering which was stacked on all five floors of the building.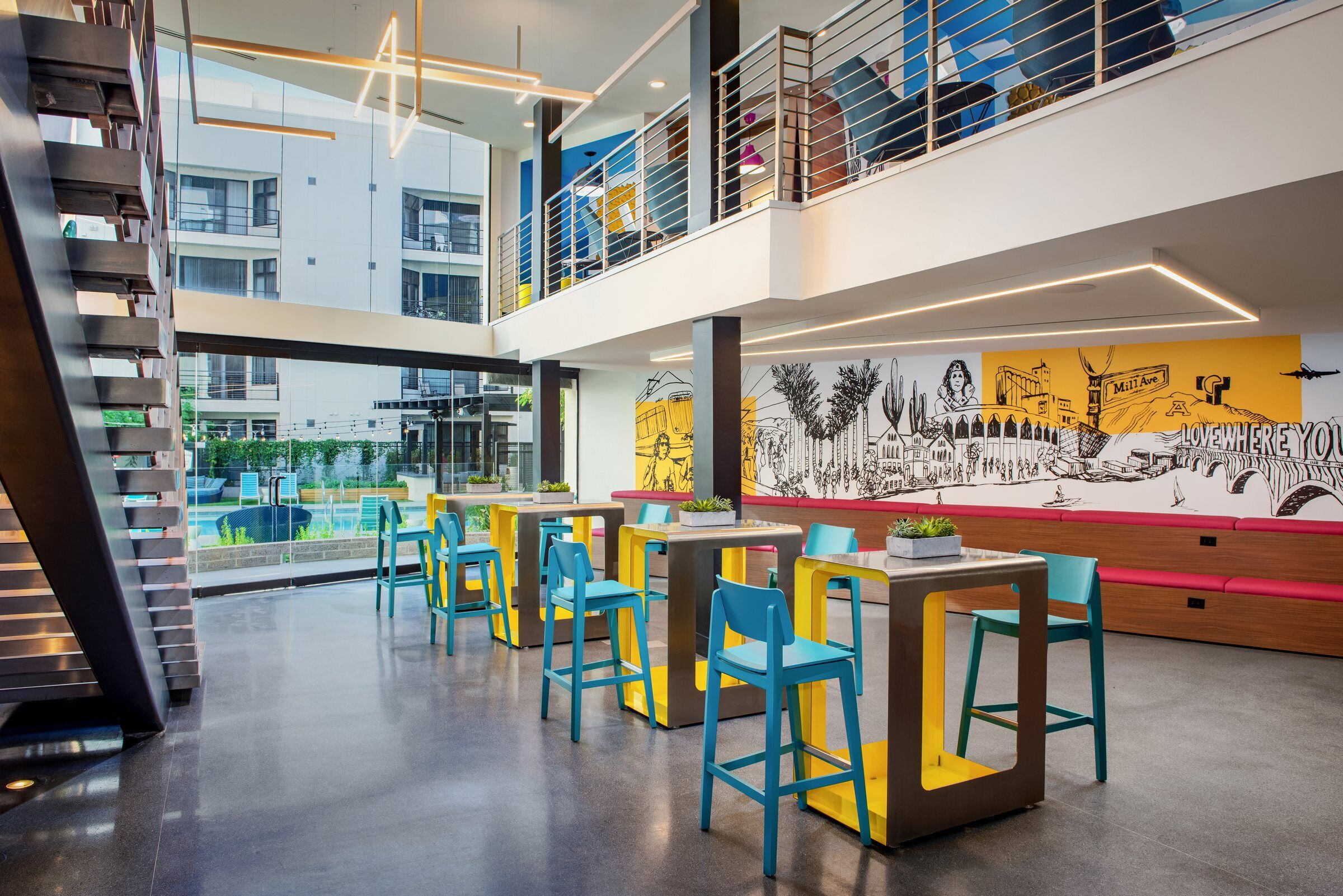 By taking to heart the directives posed by the full property renovation, the amenity spaces embody the overall feel of living in and experiencing the desert landscape. Key design features includes a two-story high walnut wood dimensional wall, custom perforated metal panels with art of local mountain ranges created in house by Private Label, layered ceiling elements that further replicate rocky cliff faces, locally sourced wood paneling, and other custom art highlighting local areas in and around Tempe.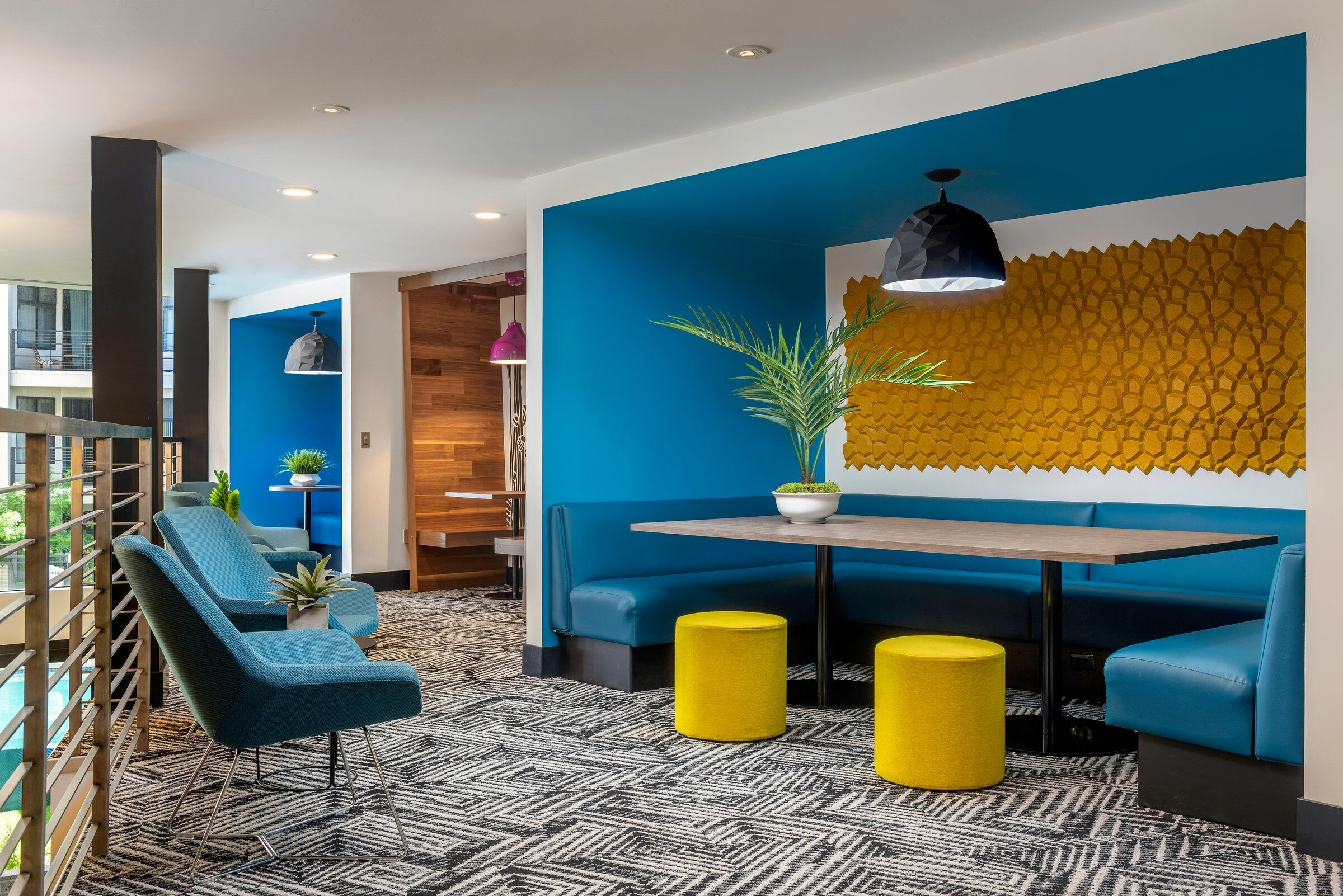 One of the main features in the design of the fitness center is a multi-layered ceiling element with integrated lighting that conceptually depicts jagged mountain facades and how light naturally spills in and plays off those elements. The ceiling spans the full length of the space while the floor level below is multi level. This posed several challenges in creating this element to have multiple heights that were not imposing or limiting with the equipment and function of the fitness space. The ceiling elements also had to be coordinated to the inch with the mechanical that had to be rerouted throughout the space to increase air flow for the fitness center to fully function for maximum occupancy and workouts.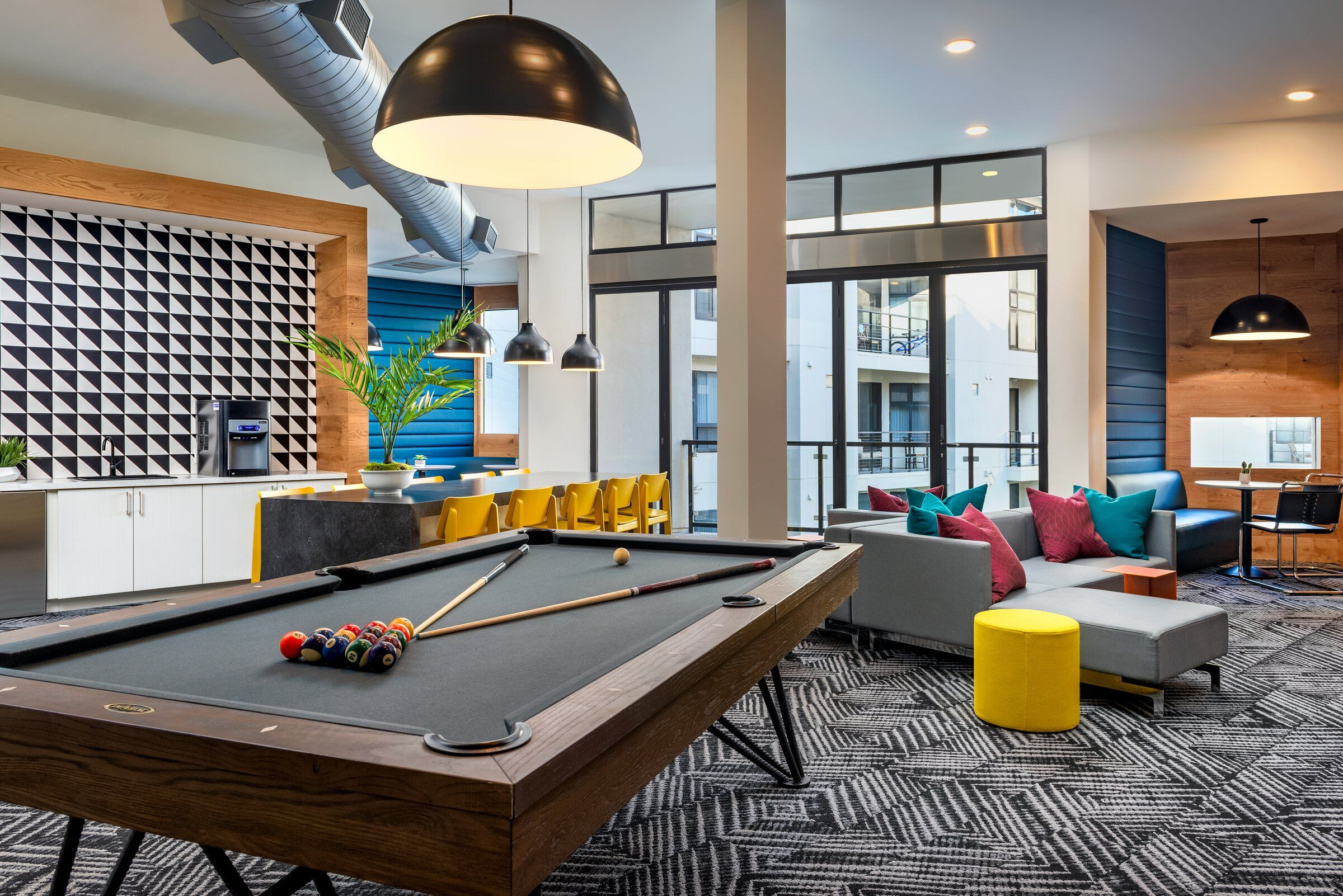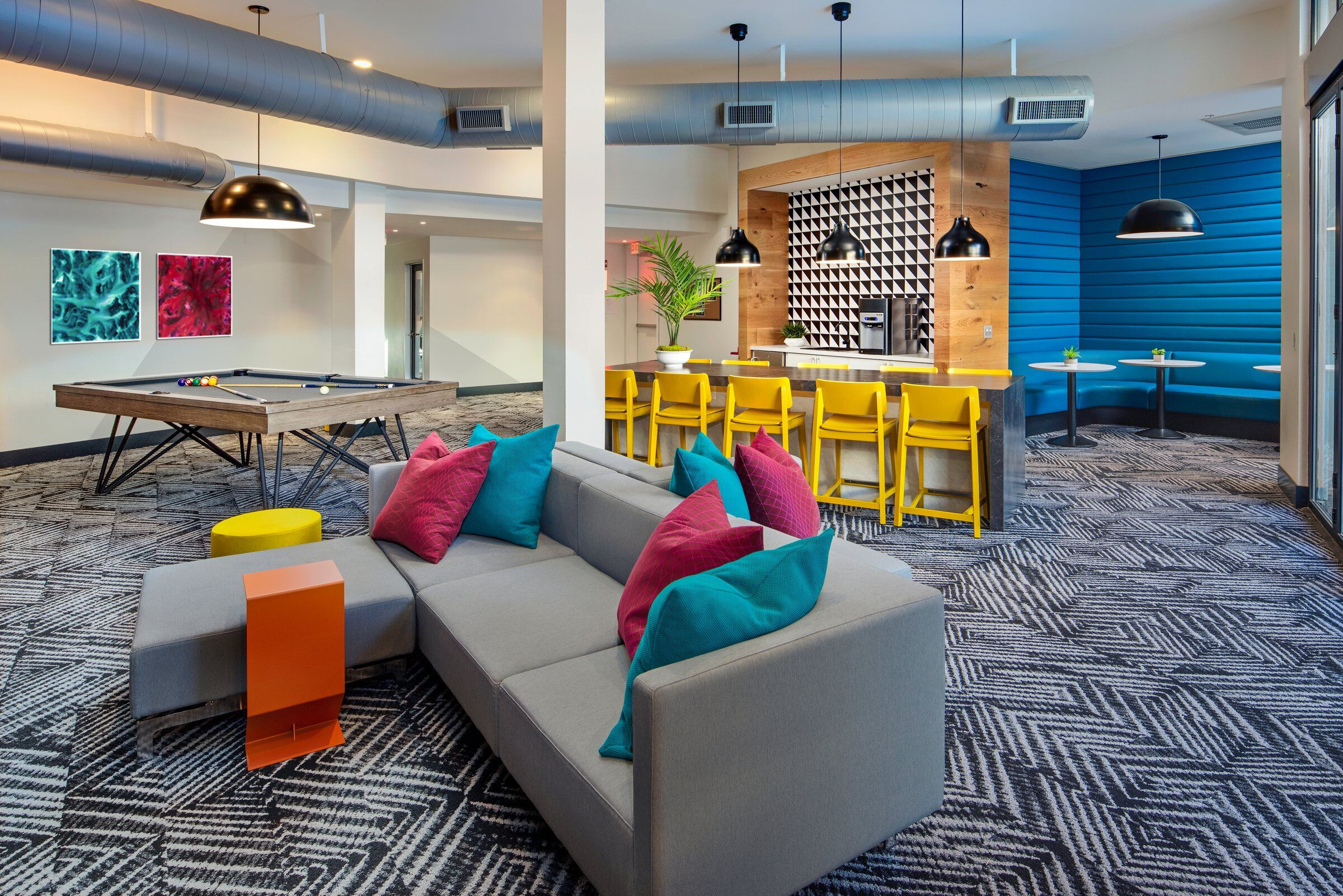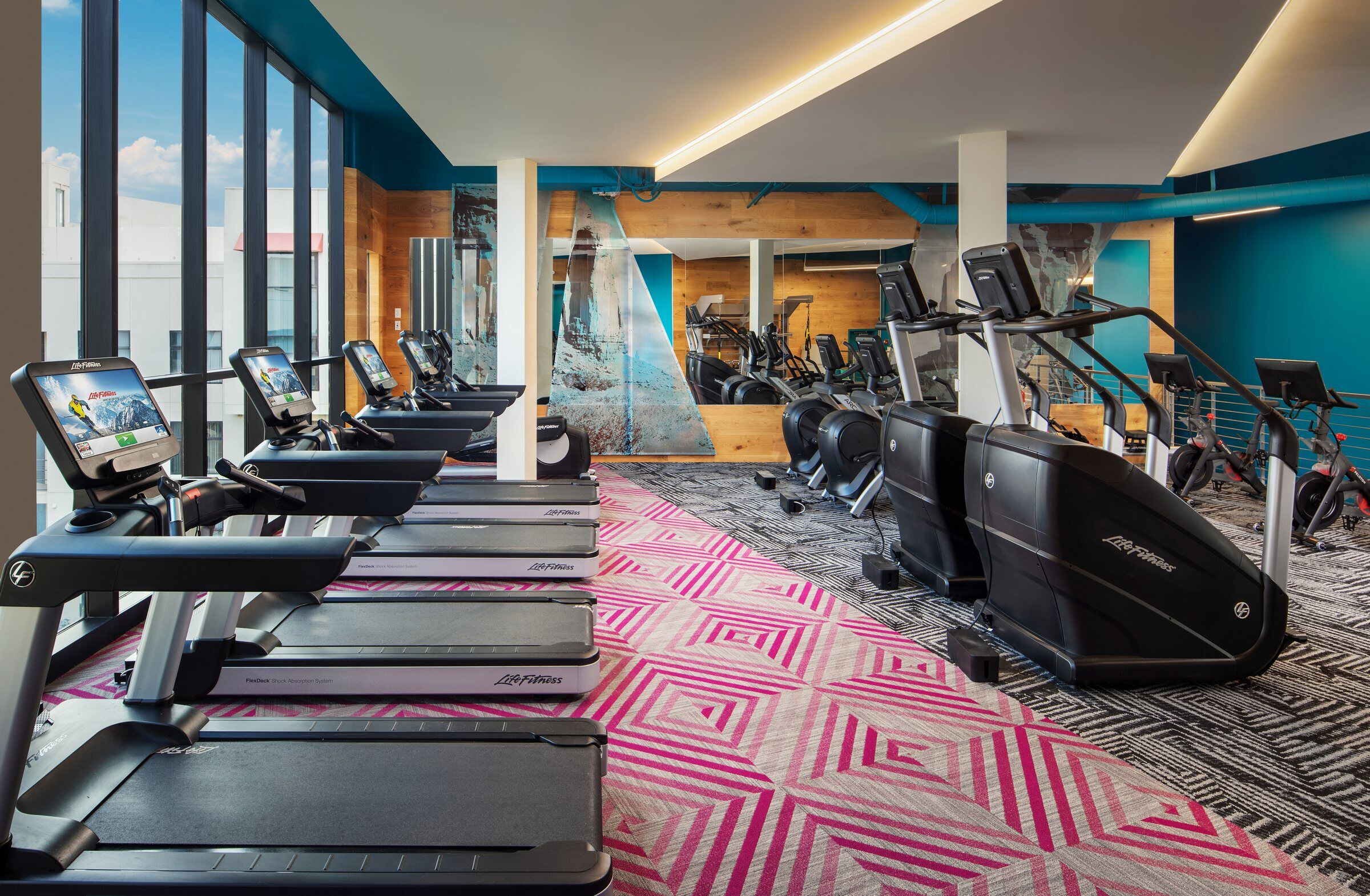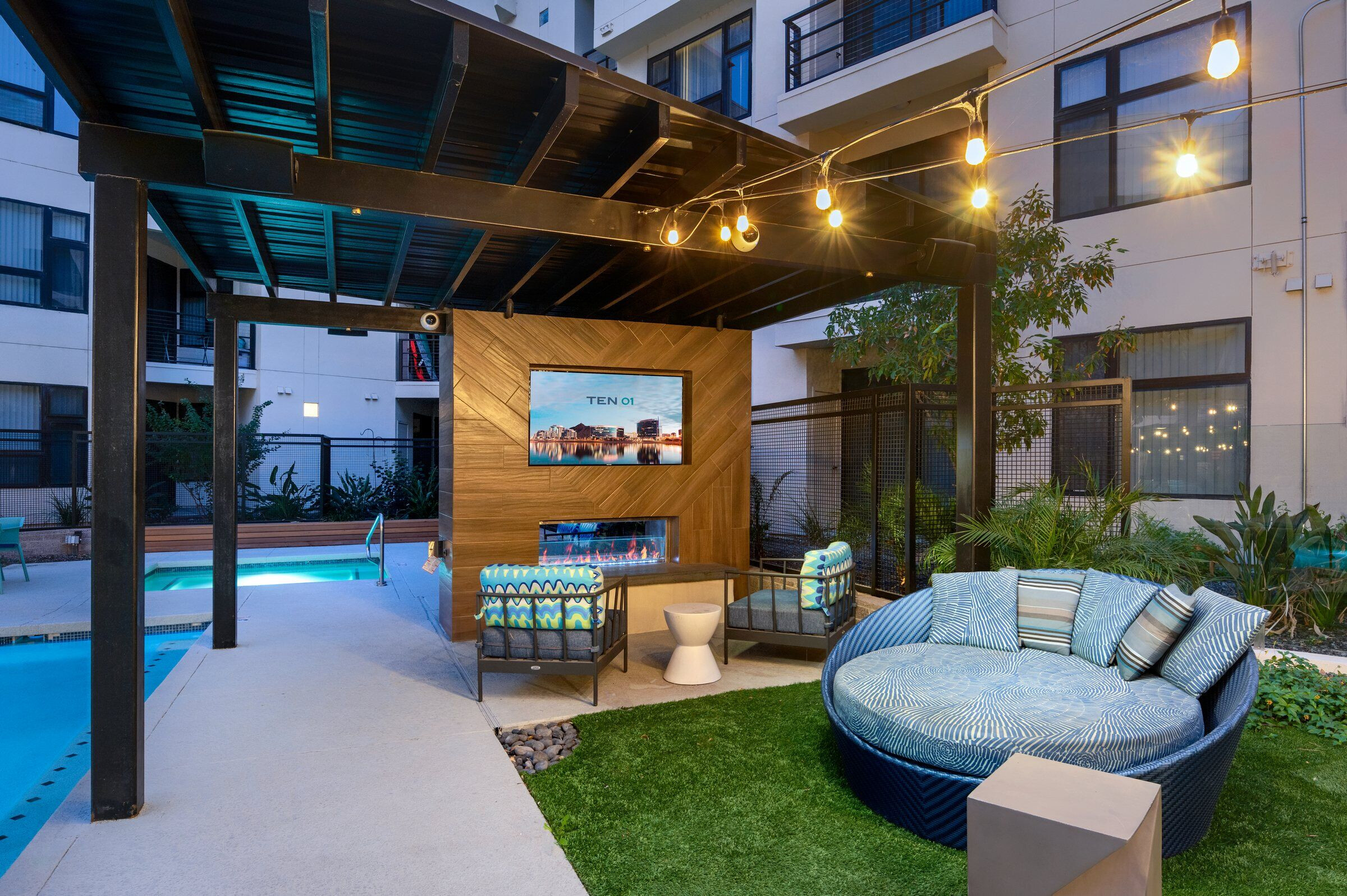 Material Used :
Facade cladding: Refinished existing metal cladding
Flooring: Refilled and polished concrete

Carpet at Leasing, Presentation, Cyber Lounge
Manufacturer: Shaw Contract
Collection: Haven
Style: Identity tile 5T237

Carpet at Club Lounge, Business Center
Manufacturer: Shaw Contract
Collection: Haven
Style: Identity tile 5T237
Color: raven 35505

Carpet at Fitness
Manufacturer: Mohawk Group
Pattern: Taped Off Tile
Type: Solution Dyed/ Yarn Dyed
Color: Chic 459

Carpet at Fitness
Manufacturer: Mohawk Group
Pattern: Taped Off Tile
Type: Solution Dyed/ Yarn Dyed
Color: Cool 149
Concrete Look Tile at Restrooms
Manufacturer: AZ Tile
Product: Cemento Cassero
Color: Cassero Grigio

Doors: Existing Storefront and Paint grade Panel Doors – any replaced to match existing
Windows: Existing Floor to Ceiling Storefront
Roofing: Existing

Interior lighting:
Suspended LED Fixture
Manufacturer: Axis Lighting
Item: Suspended LED Stencil Fixture

Ceiling Light at Concierge, Presentation Space, Auditorium
Manufacturer: Coronet
Item: LSR2LED Light Fixture Purchased by Contractor/ Installed By Contractor
Item: LSR2 LED-XX-30-LTG1-UNV-DB-W-NT-EIS-SD

Pendant at Cyber Lounge
Manufacturer: Foscarini
Item: Rock, suspension by Diesel

Wallsconce at Restroom
Manufacturer: Tunto Design
Item: LED28

Pendant at Cyber Lounge
Manufacturer: ANP Lightng
Description BEL Pendant

Pendant at Club Room
Manufacturer: ANP Lighting
Description: Overside Shallow Dome Pendant

Pendant at Business Center
Manufacturer: Kuzco
Description: Sampson Pendant
Illluminated Market Clock at Fitness
Manufacturer: Americlock Inc.
Item: 6-foot dia RGB LED illuminated marker clock

Recessed Lights at Offices
Manufacturer: AXIS
Description: Beam4LED Recessed Mount

Industrial Fan at Fitness
Manufacturer: Big Ass Fans
Collection: Sweat Bee

Interior furniture:
Cork Wall tile at Second Floor Cyber Lounge
Manufacturer: Muratto
Collection: Organic Blocks
Product: Beehive

Wall Tile at Presentation Space
Manufacturer: Moonish
Collection: Arlequin
Material: Poplar

Custom Wallcovering at 2nd Floor Cyber Lounge
Manufacturer: Wall and Deco
Pattern: Desert Spirit 300 x 300

Custom Graphic Metal Panels at Fitness
Manufacturer: Moz Designs
Color: Custom Digital Imagery

Expanded Metal at Leasing Hospitality
Manufacturer: McNICHOLS or Equal
Item: Expanded Metal, 1 4700348148
Andrew Brown – Custom Art
Nicomia Metal – Custom Tables
Gold Leaf Design Group – Green Wall
Trina Turk
Sonriza Print
Color: Black

KnollTextiles #K20535
Island
Color: High Tide

Trina Turk
Jax Print
Color: Driftwood

Sandler Seating
Offset 3.1

Sandler Seating
Offset 4.1