Newday Offices offers full-serviced workplaces and co-working spaces across the Netherlands. Their freshly renovated location in the heart of Arnhem is a perfect spot to work and meet.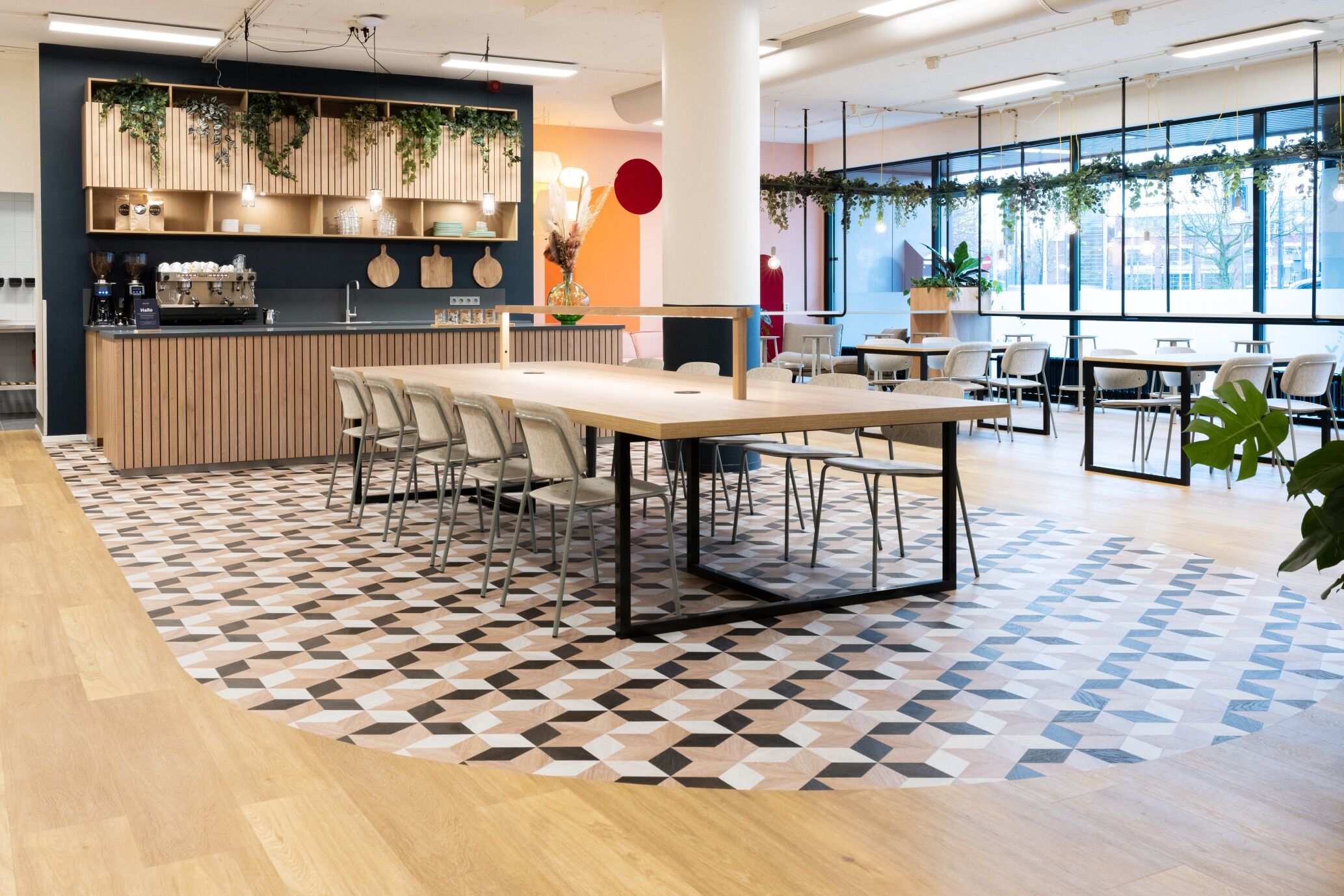 Office and café under one roof
In addition to fully equipped workplaces and meeting rooms, the visitors of Newday Arnhem can enjoy a welcoming café on the ground floor of the building. Thanks to the Fresh Perspective and Leidmotiv, this area has recently received a complete touch-up.
The main task was to renovate the café into a contemporary space reflecting the vibrant brand identity of Newday. Moreover, it was essential that the new interior remained in balance with the rest of the building, resulting in a harmonious and complete whole.
Both goals were achieved in the final design - the renovated café is colourful and fresh, with a carefully chosen mix of materials and colours referring to the brand.
Balanced and colourful interior
The designer combined neutral shades with bright accents to create a fresh, yet balanced appearance. The soft beige Hale chairs by De Vorm create a luxurious hospitality feel, while striking yellow Radial lamps by ReFelt add depth and contrast to the space. The colour theme continues in the geometric pattern on the walls, as another subtle reference to the brand colours of Newday.
Following the company's values, the design was developed with considerable respect for the environment and includes a lot of greenery, recycled furniture and sustainable materials. Both lamps and chairs are made from PET Felt, recycled plastic bottles.
The bold diamond floor is another accent of this space, drawing attention to its central zone. Here, the designer located a generous bar and a large reading table. Visitors can use it as a shared working spot, finishing their tasks while enjoying lunch or tasty coffee.