New Delhi Railway Station is a major transportation node with approximate average foot fall of 450,000 people daily. The Airport Express line and the Yellow line of the Delhi Metro also have a subterranean underground station at the Ajmeri Gate side in-between the railway station and the Parking building . On the surface there is the Bhav Bhuti Marg and the drop off Zone of the Railway station.
ISA Project consulting Pvt LTD ( STUDIO ISA) won the competition for the design of the Bridge addressing all the requirements in a creative, unique and modular way. The highly creative architecture design firm used cutting edge technology using Grasshopper , Rhino , Unreal engine to provide a unique structure with a Zinc Fish skin roof and cover over the bridge which floats without any support making the users wonder how the roof is held in place at the same time addressing the engineering challenges in the most creative and aesthetic ways.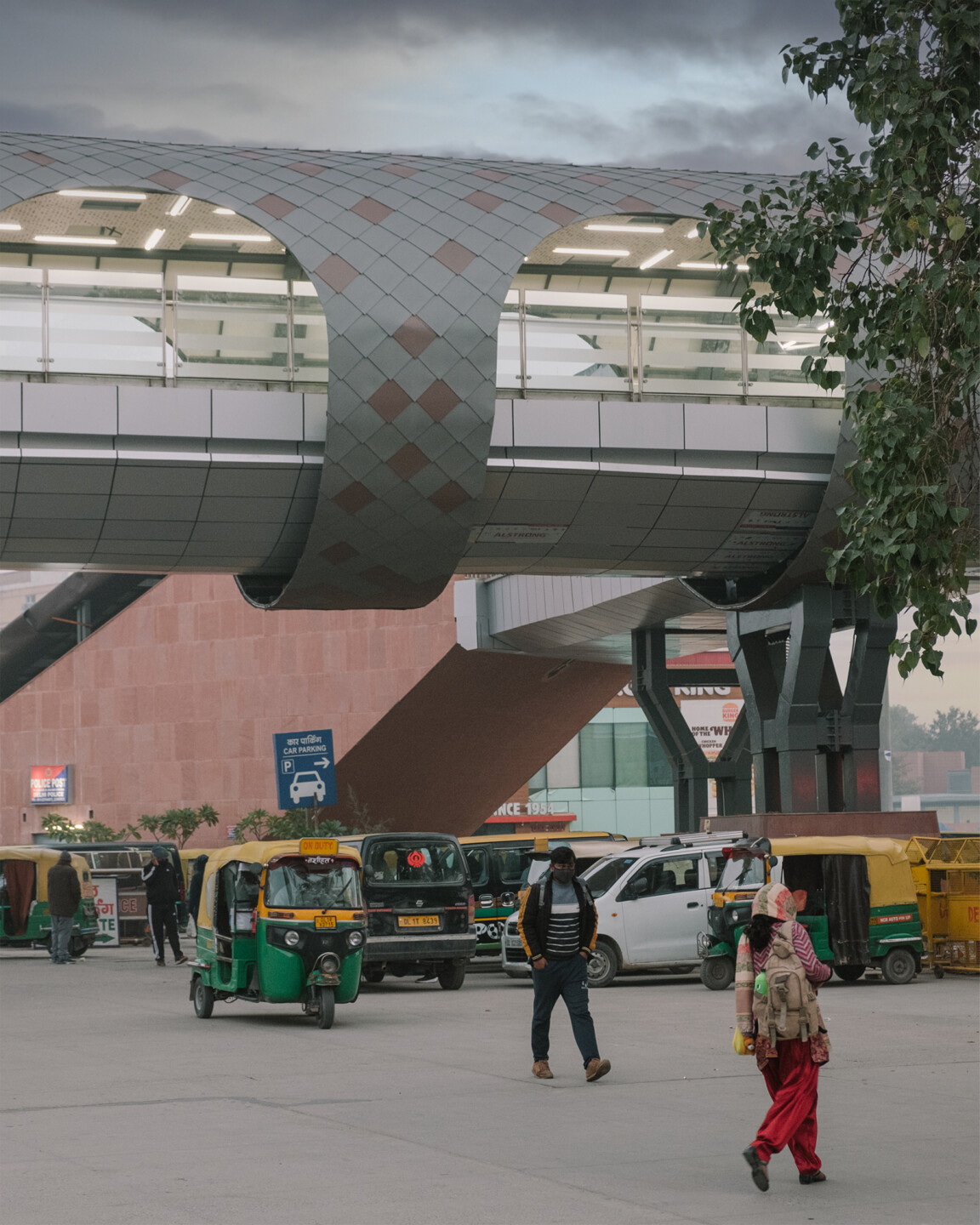 The bridge was conceptualised to provide an easy connectivity for the commuters and passengers since all these nodes were disjointed from each other and it was inconvenient, inefficient and unsafe for the people to change from one mode of transportation to the other. The proposal for implementation was approved by UTTIPEC.
New Delhi Railway Station has an average footfall of 4,50,000 people per day. It is a major transportation hub integrating Railways, Delhi Metro Airport Express Line, Yellow Line, Taxi Stand, Bus Stand, Private Vehicle Parking and DMRC parking Building. All these modes of transports and pedestrian traffic was disjointed and it was difficult for people to transit from one mode to the other. There was an urgent need to integrate all the pedestrian traffic to ease the comfort of the people and this was solved aesthetically and efficiently by DMRC.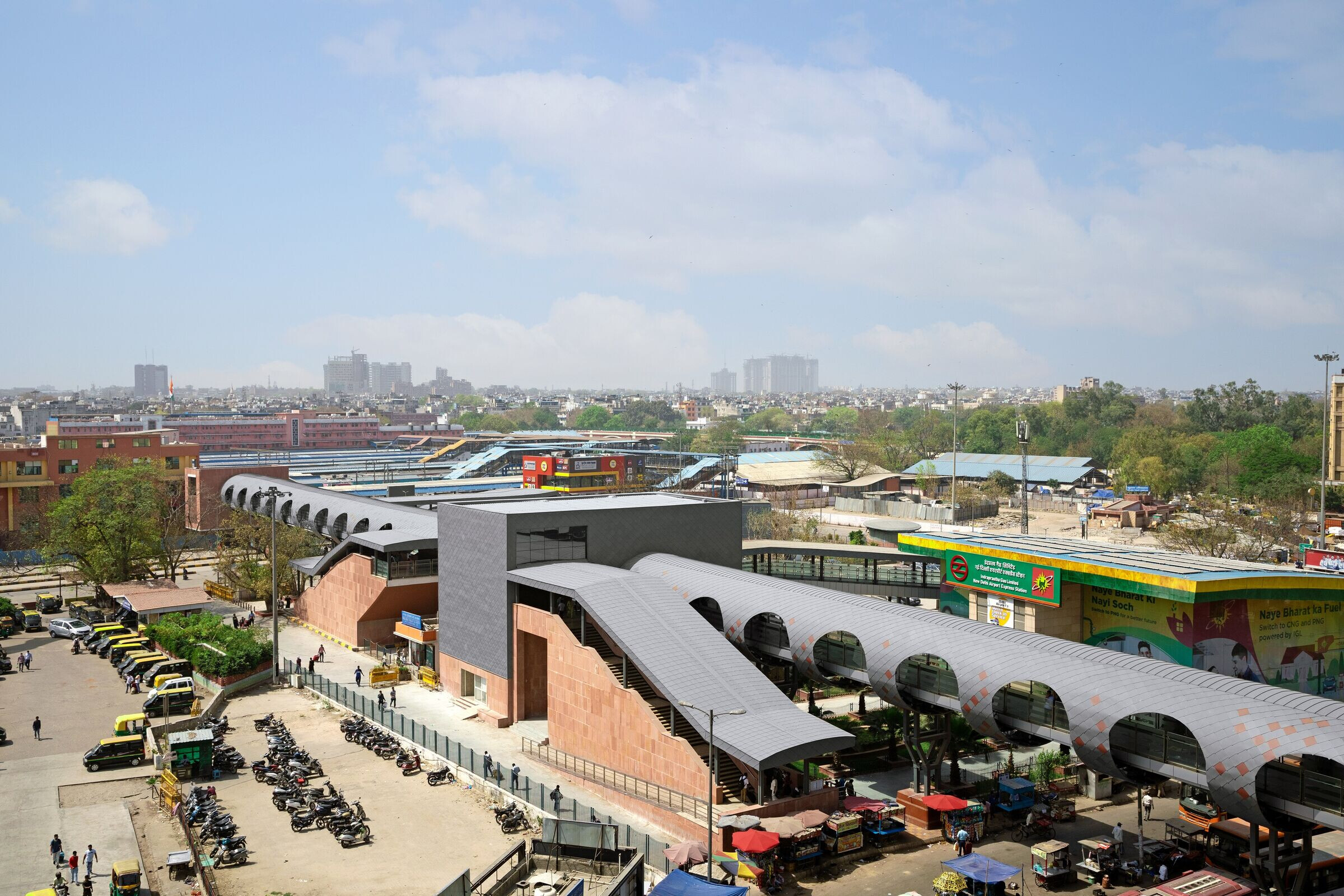 DESIGN CRITERIA
The Shape and forms of the Jantar mantar inspired the vision along with modern materials like Zinc, Aluminium composites ,lighting ,structure and aesthetics that would address safety, utility, efficiency and make the users feel that they had stepped into a new and progressive Delhi.
There were unique challenges with and underground station just three metres below the bridge foundation and connection of the bridge to an existing parking building built a decade ago without any plans for such extensions. The traffic on BhavBhuti marg was heavy 24 hours of the day and major infrastructure services from the railway station till the parking buildings had to be located and rerouted without affecting either the traffic or the passengers.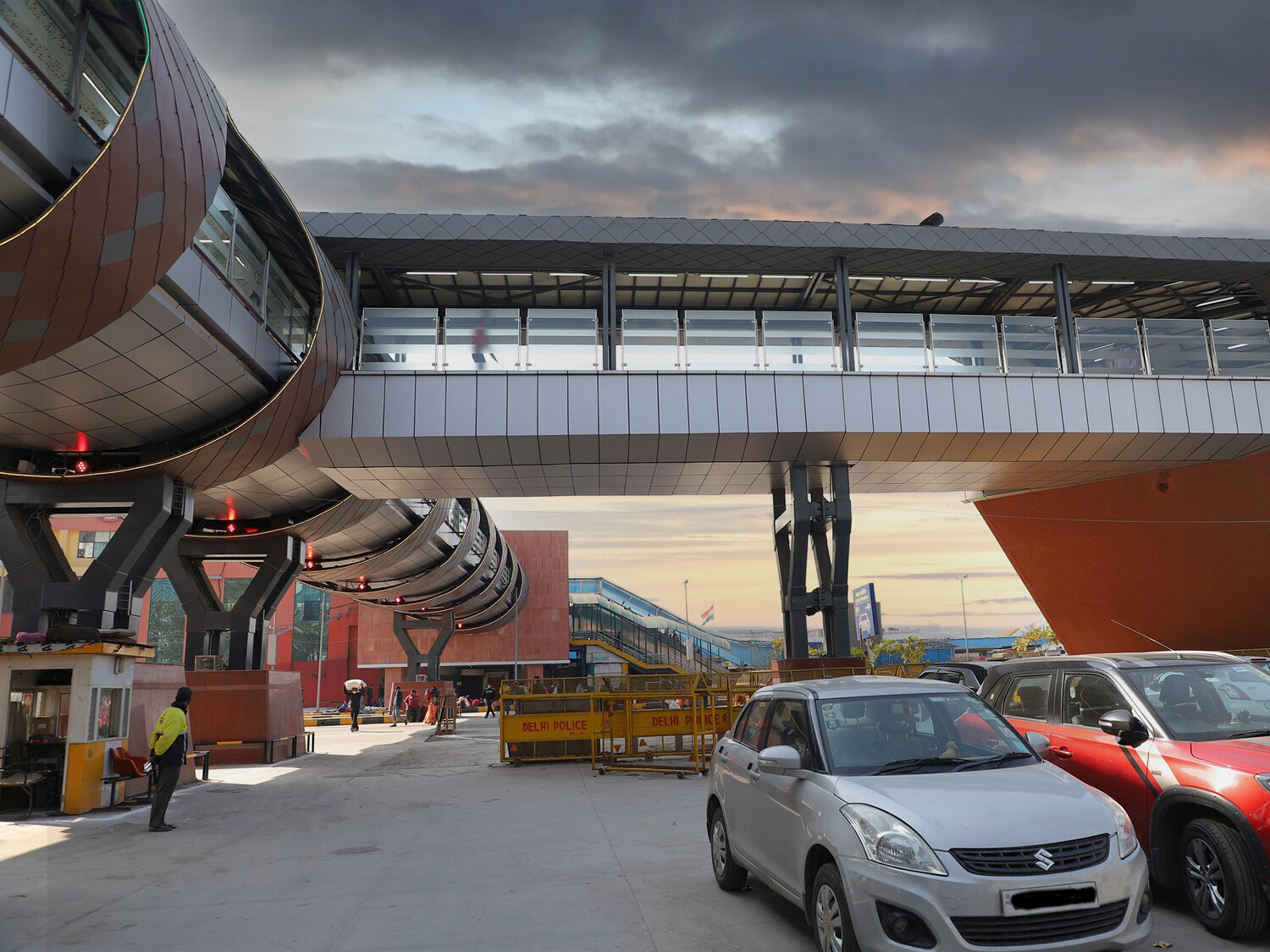 For a foot over Bridge in Delhi there are many first that were achieved.
It became the first FOB to have a combined length of 242 mtr with a unique zinc roof in India.
It is the longest FOB with a continuous stretch of 442 Mtrs from the Parking Building till the Paharganj Side including that of the Northern Railways FOB.
It is the first True Skywalk connecting two existing structure in Delhi with the parking building, Airport express Station on one side and the New Delhi railway station on the other side.
It is the first FOB in India connecting a railway station, underground station, Parking building , offices, bus stand, Airport express line in India and comparable to world-class urban assets.
The Design is unique and original and there is nothing similar elsewhere in the world denoting the Atmanirbhar Bharat Attitude and confidence in Design , Engineering and execution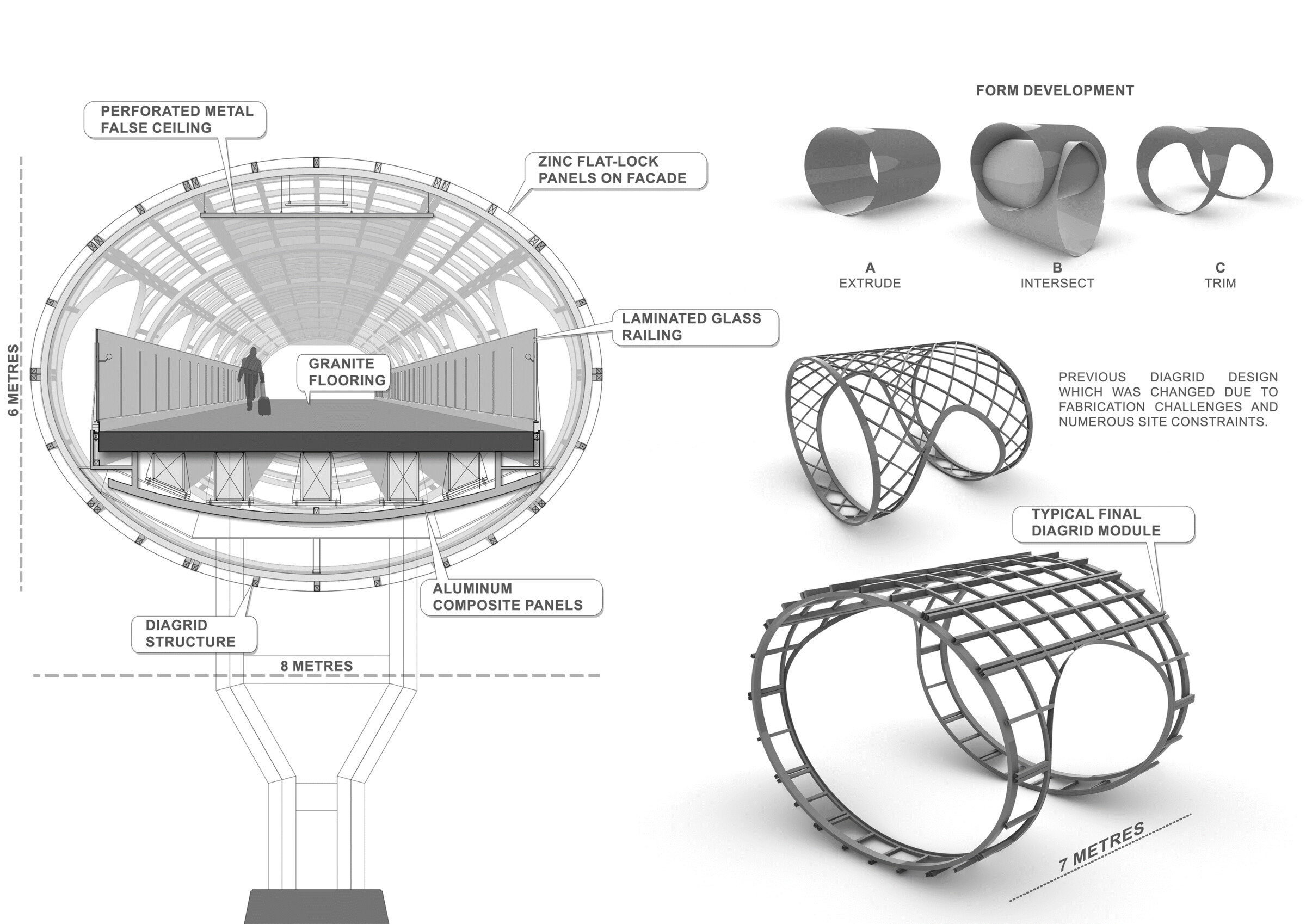 DESIGNED 2019
COMPLETED 2022
TECHNICAL DATA
Total Span : 242M
Built over an existing under-ground Metro Station just 3M below.
Prefabricated and Modular Diagrid design of 7M length. The column spans are in multiples of 7M measuring 7, 14, 21 and 28 metres.
Complete CCTV surveillance along the entire length of the Skywalk.
Escalators - 6 Nos
Elevators - 2 Nos
UPS power backup, Emergency Lighting
Zinc Fish Skin Roofing
DMX Controlled RGB Lighting - 900M
PROJECT TEAM
Hemu Bharadwaj (ISA)
Bhavya Rishi (ISA)
Geetanjali Bharadwaj (ISA)
Deepak Mishra (ISA)
Anuj Kannaujiya (ISA)
Pankaj Gupta (Roark)
Lokesh Tyagi (LKT)
Keshav Sharma (WBG)
Vidyanand Yadav (NRC)