Mexico City is home to a number of outstanding, epoch-defining architectural firms. Its contemporary pioneers are sophisticated storytellers that are well-versed in fusing cultural tradition with built projects that respond to climate and regional materials. From projects that use formal provocation to subtle craftsmanship, Mexico City is a factory for current industry ideas. The 25 firms presented here practice both locally and internationally, and represent the forefront of Mexico City's architectural production today.
1. Tatiana Bilbao
Tatiana Bilbao ESTUDIO is a Mexico City based architecture studio, founded in 2004. At the core of the studio´s practice is an analysis of the context surrounding projects, which scale from masterplans to affordable housing typologies. A goal of the studio's work is to both contribute to its surroundings while remaining flexible to absorb shifting needs. The studio's work includes Ajijic House, an adaptable, integrated, vernacular and low maintenance summerhouse in the Chapala Lake in Jalisco, Mexico. Its geometry of cubes represents the single parts of the family, which exist as individuals but also as a group.
2. Frida Escobedo
Since founding her eponymous practice in 2006, Frida Escobedo has developed a distinctive approach driven by the conviction that architecture and design represent a crucial means to interrogate and comment on social, economic and political phenomena. The studio works at many scales and mediums, from buildings and experimental preservation projects, to temporary installations and public sculpture. Its portfolio includes La Tallera, a museum in Cuernavaca which opens on a plaza by rotating Siqueiros murals from their original position to generate new relationships between the museum and its surrounding spaces.
3. Dellekamp Schleich
Dellekamp Schleich is dedicated to the development and supervision of architectural projects with a rigorous research methodology, regardless of scale or program type. The studio aims to find unique solutions to the specific conditions of each project in order to maximize its intended budget, image, use, context and spirit. Its work includes L House, a weekend house created by uniting volumes in an L form with a covered roof. Patios are inserted into the longest volume, preserving pre-existing trees on the site, allowing vegetation to take over the project.
4. Taller | Mauricio Rocha + Gabriela Carrillo
Established in 1991, Taller develops contemporary architecture solutions sensitive to the context and the environment, combining an adequate selection of local materials with state-of-the-art technology. The dignity and quality of the spaces is a constant in the studio's projects, which balance budget, context, typology and the end user. Its portfolio includes public and private projects, museography, temporal architecture and art interventions. TALLER's work is committed to the academy from teaching to workshops for undergraduates and specialization courses. It includes such projects as the Academic and Cultural Center of San Pablo - the restoration of the first Dominican convent built in the city of Oaxaca.
5. Taller Hector Barroso
Taller Hector Barroso is an architectural practice based in Mexico City and focused on residential projects. Its portfolio includes S House, located in western Mexico City. The house is built on a site with an abrupt topography and adjacent residences that stand above the land on three sides. Taller Hector Barroso designed the house with a garden floor plan elevated one level above parking and services areas, creating a base that allows a better position towards the sun and isolation towards the street. Above this base, three concrete blocks contain residential program.
6. Productora
Productora is a Mexico City based architectural studio founded by Abel Perles, Carlos Bedoya, Victor Jaime and Wonne Ickx. PRODUCTORA´s work is distinguished by an interest in precise geometries, the production of clearly legible projects with limited gestures and the search for timeless buildings in their material and spatial resolutions. Its portfolio includes House in Tlayacapan, which reassembles six parabolic modules of recycled fiberglass inherited by the client from a modular house originally built in the 1970s.
7. TAX Arquitectura
Thinker, builder and preserver, Alberto Kalach and his youthful lab- T.A.X. have forged a place in contemporary architecture by creating spaces that celebrate the creative process. Alberto Kalach is a Mexico City-based architect concerned with projects aiming to solve emerging problems of the vast city: from a $5,000 minimal house, to housing developments, to the largest project ever conceived for the Valley of Mexico Basin, "México Ciudad Futura", which embraces the city as a whole through studies of its geography.
8. FR-EE Fernando Romero Enterprise
FR-EE/Fernando Romero Enterprise is a 60-person architecture firm located in Mexico City and New York. FR-EE's work balances the interests of public and private entities while translating contemporary moments and culture through research, design, technology and construction. Founder Fernando Romero seeks to re-define the norms of society by collaborating with global leaders on future ideas and initiatives which architecture can give form to. In 2002, Fernando Romero was named a "Global Leader of Tomorrow" at the World Economic Forum. He was recently made a fellow of the American Institute of Architects and is a member of the CAMSAM – Mexican Chamber of Architects. In 2004, Fernando received a Bauhaus Award for young designers. For his contribution to architecture in Mexico, Fernando received a Mexican Society of Architect Award.
9. Rojkind Arquitectos
Rojkind Arquitectos is a Mexico City-based innovative firm focusing on design, business tactics, and experiential innovation. It designs urban strategies and architectural solutions by redefining challenging conditions as design opportunities. Collaborating with experts from all fields, the studio develops custom-made experiences for each client and end user. Rojkind focuses on investigating contemporary programs, applying the latest technologies, and translating complex digital designs into simple solutions for local fabrication. The studio's portfolio includes a wide spectrum of design initiatives, from small objects to large buildings and masterplans.
10. Sordo Madaleno Arquitectos
Sordo Madaleno Arquitectos (SMA) is a Mexican firm founded in 1937 that has passed through three generations of one family. Since its founding, it has acquired a reputation as a socially responsible company both in terms of society and the environment. Over the years it has become a team of over 120 experts in different disciplines. Its portfolio of completed work includes Americas 1500, four stacked mixed-use geometric volumes including offices and a hotel, located in the heart of Guadalajara.
11. Manuel Cervantes Estudio
Manuel Cervantes Estudio, formerly CC Arquitectos, is a studio in Mexico City led by architect Manuel Cervantes. The studio has completed a range of work from residences to houses, including Punta Ixtapa, a project which is carefully inserted into the site, taking full advantage of the topography of the land, views, vegetation, cross ventilation, natural light and orientation. Regional materials were selected such as Tepeaca marble, wood, parota and local stone.
12. TEN Arquitectos
Founded 34 years ago by Enrique Norten and with more than 60 built works, TEN Arquitectos (Taller de Enrique Norten Arquitectos) has a portfolio that covers cultural, residential, hotels and infrastructure projects. With offices in México City, New York and Miami, the design work is made with a global perspective and an international sensibility. The studio has completed works including the Guggenheim Museum of Guadalajara, the New York Public Library, the National Theater School of México City and the Rutgers Business School in New Jersey. A sense of community from Norten's native México is implicit - a strong connection with the place and people is the basis for projects.
13. Taller David Dana Arquitectura
TDDA aspires to design high quality spaces through a creative interaction of materiality, form and structure. Driven by a passion for design, TDDA implements innovative ideas across diverse lines of business. It has completed project types including housing and highrises, such as Torre Río 436, a striking corporate project located in Mexico City defined by stacked volumes that correspond to its structural module.
14. Estudio MMX
Estudio MMX is a practice of specialists in architecture and urban planning. The studio prides itself on its capacity for reflection and analysis to understand the unique and special factors for different scale spaces. MMX is an integrated team run by four partners. Its portfolio includes FCA, a temporary installation to house a variety of exhibitions in Mexico City's historical center, designed in relation to the flows and movement of a large square and esplanade.
15. Esrawe Studio
Esrawe Studio is a cross-disciplinary design office located in Mexico City, whose aim is to develop furniture and interior design solutions for bars, restaurants, hotels, offices, houses and commercial spaces. The team is composed of experienced designers, architects, production engineers and IT engineers, as well as a team of manufacturing specialists.
16. BNKR Arquitectura
Bunker Arquitectura is a Mexico City-based architecture, urbanism and research office founded by Esteban Suarez in 2005. The studio has completed projects ranging from small iconic chapels for private clients to a master plan for an entire city. Bunker has attracted attention for its outside-the-box approach to architecture with projects such as Panel Rey, an exhibition pavilion for a gypsum panel company in Mexico, formed by a number of flat triangles that intersect to create an arch and cantilevered form made of gypsum.
17. Pasquinel Studio
Pasquinel Studio, founded in 2012 by the architect Crimson Pasquinel in Mexico City, is a young multidisciplinary architecture and design firm that is set on resolving problems between the user and his or her current needs, inside and outside an urban environment. It has completed projects such as the Tepoztlan Hotel: sited on an abandoned rugged, plot full with wild vegetation, this terracotta-colored building houses 11 rooms in four volumes arranged according to the surrounding landscape.
18. Zeller & Moye
Zeller & Moye is a design studio based in Mexico City and Berlin formed by Christoph Zeller and Ingrid Moye. The studio works at the intersection of architecture, art, design and innovative technology through an experimental, multidisciplinary and collaborative working culture. Having worked for SANAA and Herzog & de Meuron, Christoph and Ingrid´s professional experience ranges from the development of concepts and strategies to the design and realization of projects at all scales. Zeller & Moye is currently realizing art and cultural projects in Mexico, Germany, United Kingdom and Kurdistan.
19. Vertebral
Vertebral is an architecture and landscape workshop that claims to be influenced by its being located in a complex urban center. It aims in its projects to bring the countryside to the city, by building with local materials that respond to their natural environment over time. The studio believes in the importance of craftsmanship and the meticulous design of all the details in its projects, each of which is formed by sequential experiences that mix interior and exterior spaces.
20. Miguel Montor Arquitecto
Miguel Montor Arquitecto is a studio that builds spaces through light, gloom, time, temperature, textures, sound and silence, and through ensembles. It has completed projects such as The New Continent High School, Campus Celaya. The building blends with the site located on a plateau overhanging an arid wasteland with little vegetation. It is designed as a series of blocks that form a colection of outdoor patios.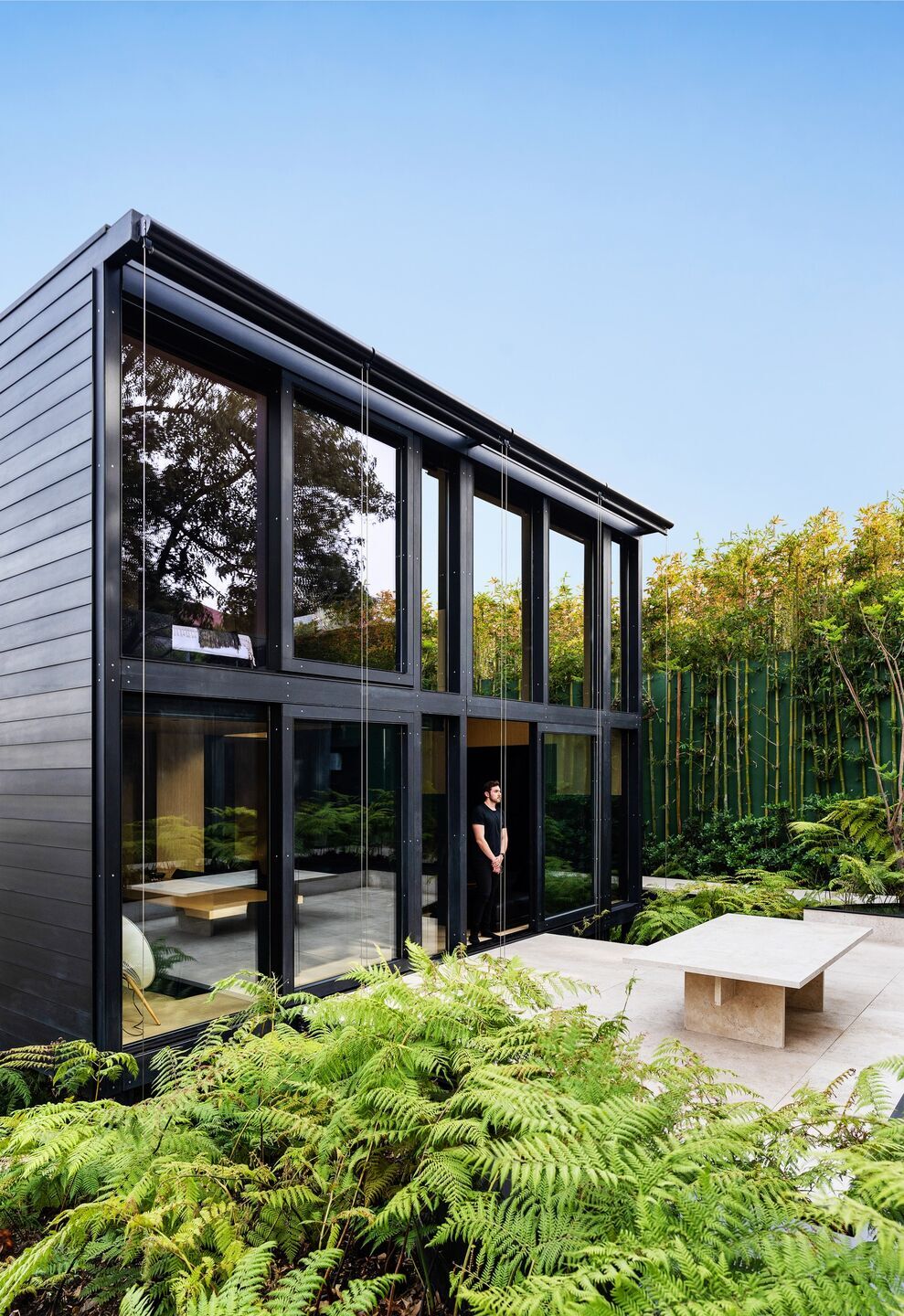 21. Taller Aragones / Miguel Angel Aragones
Miguel Angel Aragonés, a Mexico-city born and self-taught architect, formed this studio which has completed work such as Mar Adentro, a series of private houses. The residences are made of rooms that were factory-built and sent in boxes by boat to their destination on the seaside in Mexico. The main module for the project is a loft-type space divided in half to create two rooms.
22. EDAA | Estrategias para el desarrollo de arquitectura
EDAA is a Mexico City-based architecture office focused on the production of contemporary architecture through diverse disciplines: architectural and graphic design, illustration, construction, commercial strategies and financial design. It was founded as an independent practice by Luis Arturo García after several years of working in various architecture, landscape and urban design practices in Mexico and Canada. EDAA's real estate development branch, GARBA, operates in areas of development, sales and marketing.
23. JSa Arquitectura
Honored with more than 55 national and international awards and with over 15 years experience, JSa Arquitectura undertakes a variety of projects, including private houses, buildings, social housing, museums, schools, commercial spaces, cultural spaces, offices, mixed-uses buildings and public spaces in Mexico and abroad. It is a young firm of over 70 employees.
24. DCPP Arquitectos
DCPP is an architecture firm focused on residential projects. It was formed by Pablo Perez Palacios and Alfonso de la Concha Rojas. Its portfolio includes projects such as Antonio sola, a residential building located in the Condesa neighborhood of western Mexico City. The four-story structure is built of concrete walls with an apparent finish, and is organized with one apartment per floor open to the street and a narrow courtyard for cross ventilation
25. Michan Architecture
Founded in 2010 and led by Isaac Michan Daniel, Michan Architecture is a studio based in Mexico City. The practice operates as a laboratory of architecture via built commissions and experimental research, exploring new possibilities within the discipline. The studio sees architecture as a flirtation towards the built environment; a question towards the norm, a speculation of what the future can be.

The selection curated by the Archello editorial team is based on a mixture of the amount of featured projects and the views they generated. For a more comprehensive list of Mexico City architects you can take a look here.